Here's a crossword blog again! Yay! I tried to do it for time, and I got a little tangled up. I have been slacking on the crossword (as you know because there have been few crossword posts), so it was extra exciting for me to try to do this one fast. My Monday record of 3:49 from February of this year stands, but I was surprised to have gotten this one done in under five minutes. Also I have solved 60 Mondays in a row, which I find to be a cool thing. My friend Gerry has like a million days in a row, but it's not a competition. You know, because he'd win handily if it were. And good on him for that.
I pulled out 61A Skating leap: AXEL because I never can remember if it's AXLE or AXEL. So I've decided to look it up. The name of the jump comes from the name of a human. And that human was Axel Paulsen.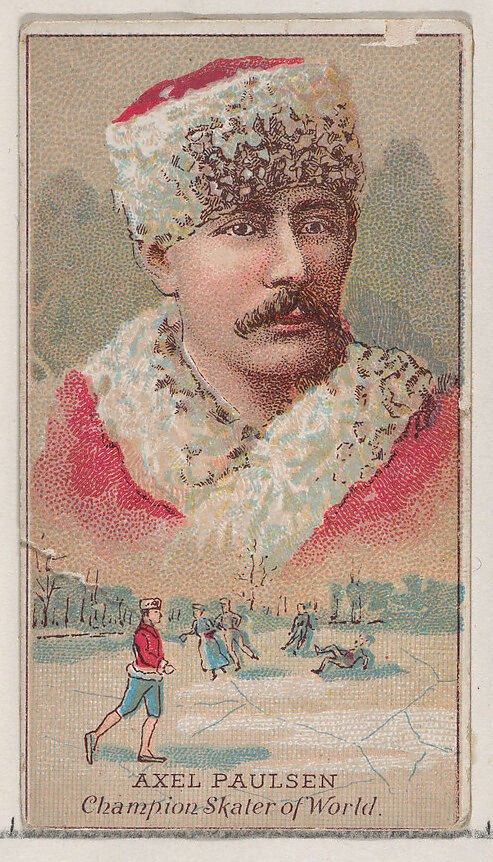 I like that this trading card whose photo I got from The Met includes someone who has fallen on the ice. Adorable stuff happening in 1887.
So now it will be easier for me to remember the spelling. It's not about spinning as though on an axle; rather, it's named after the dude Axel Paulsen.
I got the theme of this puzzle only after reviewing it.
17A Sleuth for hire: PRIVATEEYE.
23A Perform an act of kindness, in a way: PAYITFORWARD.
36A 1977 #1 Eagles hit: HOTELCALIFORNIA.
46A It might catch a thief or a speeder: HIDDENCAMERA.
57A Be willing to accept whatever … or a hint to the ends of 17-, 23-, 36- and 46-Across: ROLLWITHIT.
Right. Eyeroll, forward roll, California roll, and camera roll. Checks out.
Finished this one in 4:32.